A Fusion of Flavors
Discover the Perfect Praline and Whisky Pairings at Bechocolateandmore
CHOCOLATE PAIRING AND TASTING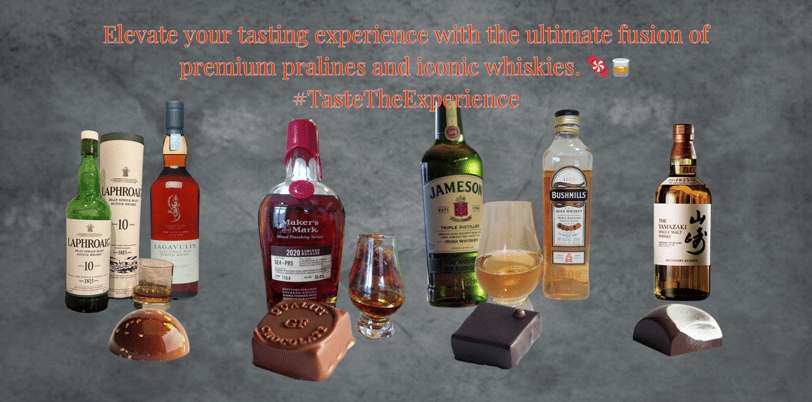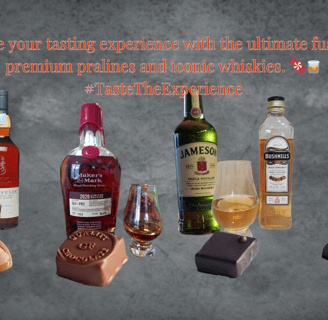 Prepare to embark on a culinary adventure where the intricate flavours of premium pralines merge seamlessly with the nuanced profiles of some of the world's finest whiskies. At Bechocolateandmore, we have meticulously curated a selection of pralines that harmonize flawlessly with the distinct characteristics of renowned whiskies, creating an unparalleled tasting experience that transcends the ordinary.
Unveiling the Culinary Alchemy: Praline and Whisky Pairings that Transcend Expectations
A Symphony of Flavors: The Perfect Fusion of Pralines and Exquisite Whiskies
Elevate Your Palate: Exploring the Delightful Marriage of Pralines and Iconic Whiskies
At Bechocolateandmore, we pride ourselves on the art of perfecting flavour combinations. Our carefully curated pralines, each crafted with precision and passion, are poised to complement the nuanced profiles of some of the world's most iconic whiskies. Prepare your palate for an extraordinary sensory journey, where the rich and smoky notes of Laphroaig or Lagavulin find their perfect match in the intricate flavours of our Ganache based on five Chinese herbs.
Indulge in the delightful harmony of the fruity and slightly sweet notes of Maker's Mark or Woodford Reserve, as they merge flawlessly with the nuanced hints of red fruits and citrus Madagascar in our Dark Chocolate Ganache. Elevate your tasting game with the subtle sweetness of our Vanilla Ganache with Puffed Rice, a perfect companion to the smooth and mellow profile of Jameson or Bushmills Irish whiskey.
Take a moment to savour the tropical notes of our Coconut Ganache with Coconut Flakes, perfectly paired with the slight peatiness and smoothness of Yamazaki or Hibiki Japanese whisky. At Bechocolateandmore, we believe in crafting experiences that tantalize the senses and create unforgettable memories.
Exquisite Praline Whisky Pairings: A Journey of Flavor
Fusion of Chocolate and Whisky: Unveiling Unique Sensory Delights
Premium Whisky Pairings: The Art of Crafting the Perfect Praline Harmony
Praline Fusion: Elevating Tasting Experiences with Iconic Whiskies
Indulgent Chocolate Whisky Pairings: A Tale of Culinary Craftsmanship
In the realm of indulgence, Bechocolateandmore stands as a testament to the art of perfecting flavour combinations. Join us in celebrating the harmonious fusion of pralines and whiskies, where every bite and sip creates moments that transcend the ordinary. Elevate your palate and immerse yourself in a world of culinary excellence, where every taste tells a story of craftsmanship and passion. Discover the perfect balance of flavours, only at Bechocolateandmore.
https://www.bechocolateandmore.mt/elevate-your-palate
https://www.bechocolateandmore.mt/chocolate-in-the-kitchen
https://www.bechocolateandmore.mt/elevate-your-senses
#BechocolateandmoreDelights #WhiskyFusionMagic #PralinePerfection #ChocolateWhiskyHarmony #SavoringMoments #LuxuryIndulgence #TasteTheExperience #WhiskyandChocolates #IconicWhiskyMoments #GourmetPralinePairings #MaltaGifts #MaltaExperience #UniqueMalta #PrivatePairing #CorporateGifts #ArtisanChocolate #PremiumChocolate #PersonalisedGifts