Embark on a Global Chocolate Odyssey
Unveiling the Best Chocolatiers Across Continents
CHOCOLATE AND TRAVEL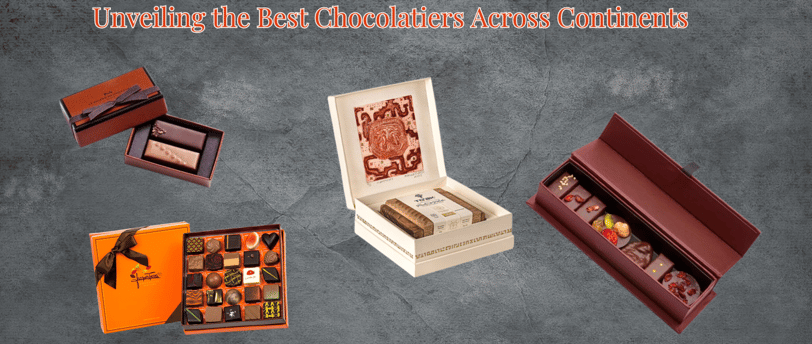 Malta's very own haven for chocolate aficionados, Bechocolateandmore, invites you on a delectable journey, exploring the most esteemed chocolatiers worldwide. Delight in the luxurious Belgian premium artisan chocolates, handcrafted by the most renowned chocolatiers, as we unravel the hidden gems and celebrated confectionaries that define the essence of the global chocolate landscape.
Unveiling the Chocolate Trail: Exploring the World's Finest Chocolatiers
Renowned for its artisanal prowess, Pierre Marcolini's chocolate boutique in Brussels stands as a testament to Belgian chocolate-making excellence. Unravel the distinct flavours of their handcrafted dragees and pearls, designed to take your taste buds on an unforgettable journey.
With a global presence, Godiva Chocolatier has established itself as a beacon of luxury and sophistication in the world of chocolates. Indulge in their exquisitely packaged chocolate boxes and hampers, perfect for gifting or personal enjoyment.
Neuhaus - Brussels, Belgium
A cornerstone of Belgian chocolate heritage, Neuhaus delivers a seamless fusion of tradition and innovation. Sample their exclusive Malta range, tailor-made to cater to the refined palates of chocolate connoisseurs.
Experience the innovative blend of tradition and modernity with andSons in the United States, as they redefine the art of chocolate-making, delivering a delightful fusion of flavours and textures that captivate the senses.
Embark on an ethereal chocolate voyage with To'ak Chocolate in Ecuador, where the rich cultural heritage of cacao cultivation culminates in the creation of divine chocolate delicacies, showcasing the true essence of Ecuadorian craftsmanship.
Indulge in the delicate masterpieces crafted by Laurent Gerbaud Chocolatier in Brussels, as they skillfully combine the finest ingredients to produce tantalizing chocolate assortments that epitomize Belgian chocolate finesse.
Discover the Swiss chocolate expertise at Läderach, where generations of artisanal dedication converge to produce exquisite chocolate compositions, each bearing the hallmark of Swiss chocolate perfection.
Unleash your taste buds with Firetree's unique single-estate chocolate experience, crafted from rare and exquisite cocoa beans, each offering an unparalleled taste adventure that reflects the essence of their origins.
Immerse yourself in the rich Swiss chocolate legacy at Teuscher, where time-honoured recipes and unparalleled dedication yield chocolate creations that embody the essence of Swiss chocolate craftsmanship.
Delight in the vibrant energy of New York City with Jacques Torres Chocolate, where passion and creativity blend to produce delectable chocolate sensations that reflect the spirit of the city that never sleeps.
Savour the organic, artisanal allure of Scharffen Berger Chocolate in Ashland, Oregon, where a commitment to sustainability and quality craftsmanship results in sumptuous chocolate creations that resonate with nature's bounty.
Experience the art of chocolate storytelling at Norman Love Confections in Fort Myers, where every chocolate creation narrates a tale of love and passion, handcrafted to enchant and delight the senses.
Explore the avant-garde world of Vosges Haut-Chocolat in Chicago, where the fusion of exotic ingredients and meticulous craftsmanship results in daring flavour combinations that push the boundaries of traditional chocolate indulgence.
Dive into the playful and inventive world of Chuao Chocolatier in California, where every chocolate creation is a testament to creativity and innovation, delivering an extraordinary culinary experience that delights the palate.
Indulge in the exquisite chocolate artistry of Puccini Bomboni in Amsterdam, where passion and precision converge to produce tantalizing chocolate creations that embody the essence of Dutch chocolate craftsmanship.
Immerse yourself in the epitome of Parisian chocolate elegance at La Maison du Chocolat, where each chocolate delicacy is a reflection of the city's timeless charm and culinary sophistication.
Satisfy your chocolate cravings with Donnelly Chocolates in Santa Cruz, California, where a commitment to excellence and the finest ingredients culminate in chocolate creations that capture the essence of California's vibrant culinary culture.
Elevate Your Chocolate Experience with Bechocolateandmore
At Bechocolateandmore, we go beyond the ordinary, bringing you the crème de la crème of Belgian chocolate expertise. Immerse yourself in our chocolate chronicles and chocolate blog, where we unveil the secrets behind the artistry of chocolates and reveal the intricacies of chocolate pairings. Delight in our customised chocolates and exclusive chocolate memberships, designed to cater to every occasion, be it weddings, baby showers, baptisms, or employee appreciation.
Experience the Magic of Belgian Pralines and Beyond
Savour the decadence of our Belgian pralines, meticulously handcrafted to perfection, and discover the allure of our snacking bars and dessert bars, perfect for moments of indulgence. With personal delivery services and a range of delectable chocolate tablets, Bechocolateandmore ensures that every chocolate moment is nothing short of extraordinary.
Unravel the exquisite world of global chocolate craftsmanship with Bechocolateandmore, as we celebrate the artistry and passion behind each tantalizing creation, transcending borders and palates alike.
#ChocolateWanderlust #GlobalCocoaAdventure #SweetGlobalDiscoveries #ChocolatierExcellence #BelgianChocolateCraftsmanship #LuxuryChocolate