Exploring the Allure of South and Central American Cocoa
A Journey with BeChocolateAndMore
CHOCOLATE AND TRAVEL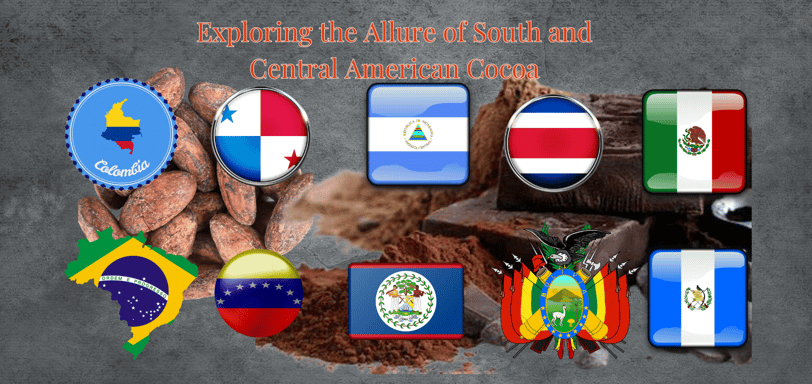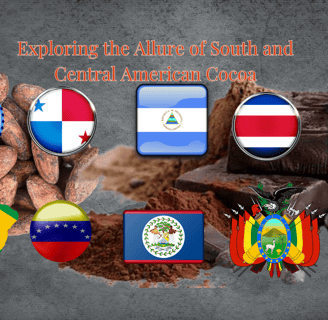 Dive into the Enchanting World of South and Central American Cocoa with BeChocolateAndMore!
From the lush terrains of Bolivia to the sun-kissed plantations of the Dominican Republic, each cocoa origin boasts its unique essence and flavour, contributing to the rich tapestry of chocolate craftsmanship. Explore the distinct characteristics of these American lands, each weaving its story through climate, terroir, and cocoa production.
#CocoaOrigins #TasteOfTheAmericas #ChocolateAdventure
🇧🇴 Bolivia: Delight in the depth of Bolivian cocoa, nurtured in the high altitudes and cooler climates, rendering a nuanced blend of fruity and floral notes that tantalize the palate. #BolivianCocoaBliss #AltitudeElegance #FruityDelights
🇧🇷 Brazil & 🇨🇴 Colombia: Immerse yourself in the vibrant energy of Brazilian and Colombian cocoa, flourishing under the tropical sun, infusing chocolate with a bold, robust character and a hint of earthy undertones. #TropicalSensations #RobustFlavors #EarthyUndertones
🇻🇪 Venezuela & 🇵🇦 Panama: Experience the velvety richness of Venezuelan and Panamanian cocoa, basking in the perfect balance of sweetness and depth, derived from the unique blend of rainforest humidity and rich soil. #RainforestTreasures #VelvetyIndulgence #SweetDepth
🇨🇷 Costa Rica, 🇳🇮 Nicaragua, 🇬🇹 Guatemala, 🇧🇿 Belize, 🇲🇽 Mexico, & Caribbean Islands: Delight in the harmonious symphony of flavours from the cocoa of Costa Rica, Nicaragua, Guatemala, Belize, Mexico, and the enchanting Caribbean islands, each offering a medley of tropical fruitiness, enhanced by the sun-drenched climate and fertile volcanic soils. #TropicalMedley #FruitfulHarmony #SunDrenchedBliss
At BeChocolateAndMore, we bring these exceptional flavours to your doorstep, meticulously handcrafting each piece to preserve the essence of these diverse origins. Savour the lusciousness of our premium Belgian artisan chocolate, complemented by the unique characteristics of South and Central American cocoa.
#ChocolateCraftsmanship #ArtisanalExcellence #CocoaMagic #ChocolateWanderlust #GlobalCocoaAdventure #SweetGlobalDiscoveries #ChocolatierExcellence #BelgianChocolateCraftsmanship #LuxuryChocolate