Indulge in Decadence
Crafting Your Custom Box of Chocolates
INDULGE IN LUXURY CHOCOLATES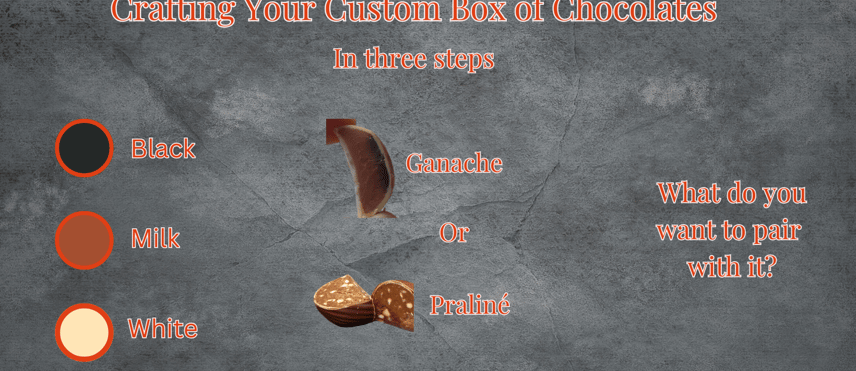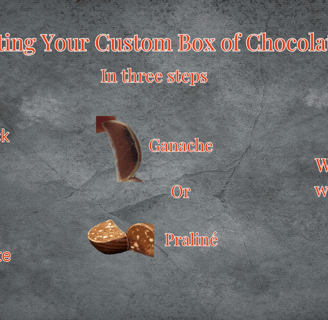 Who doesn't love a box of delectable chocolates? At Bechocolateandmore, we understand that the perfect box of chocolates is a carefully curated reflection of your unique taste. With our range of premium artisan chocolates, the possibilities are endless. Here's how you can build your very own box of chocolate ecstasy that caters to your every desire.
Which Chocolate Craving Calls Your Name?
Black. Dark and intense, a flavour that lingers and satisfies the most discerning palate.
Milk. Creamy and sweet, the classic indulgence speaks to your inner child.
White. Delicate and smooth, a subtle delight that charms with its elegance.
Each variety promises a unique taste adventure, allowing you to choose the perfect flavour profile that resonates with your cravings.
Praline or Ganache: Delight in Divine Fillings
Dive into the exquisite world of textures and fillings with our luscious pralines and indulgent ganaches. Pralines offer a delightful crunch, blending the richness of nuts with the smoothness of chocolate. Ganaches provide a velvety, melt-in-your-mouth experience, with each bite promising a symphony of flavours that dance on your taste buds. Handcrafted with the finest ingredients, our fillings ensure an unparalleled chocolate encounter that leaves a lasting impression.
Pairing Perfection: Creating Moments with the Right Combination
Indulgence knows no bounds, and at Bechocolateandmore, we encourage you to elevate your chocolate experience with the perfect pairing. Have you ever savoured the subtle dance of flavours when rich dark chocolate is complemented by a robust red wine? Or perhaps you prefer the timeless harmony of creamy milk chocolate paired with a smooth, aromatic coffee blend. Let us guide you in creating harmonious combinations that will elevate your chocolate indulgence to new heights.
Budget-Friendly Delights: Chocolate Bliss Within Reach
With our commitment to excellence, we believe that luxury should be accessible to all. That's why we offer a range of options to suit every budget. Whether you're seeking an affordable yet luxurious treat or a premium ensemble to mark a special occasion, Bechocolateandmore has the perfect solution for you.
Craft your box of chocolates today, and savour the moment of pure bliss that only the finest artisan chocolates can provide. Unwrap the magic of Bechocolateandmore and let us redefine your chocolate experience.
Visit our large selection of pralines
https://www.bechocolateandmore.mt/the-sweet-journey
https://www.bechocolateandmore.mt/introducing-bechocolateandmore
#Bechocolateandmore #ChocolateIndulgence #ArtisanDelights #CustomChocolates #LuxuryTreats #praline #chocolate #MaltaChocolate
#GiftsMalta #Exclusive #BestChocolateMalta #RewardedChocolate #CorporateGifts