Make Gratitude Sweeter
with 'Thank You Flavours' at BeChocolateAndMore!
INDULGE IN LUXURY CHOCOLATES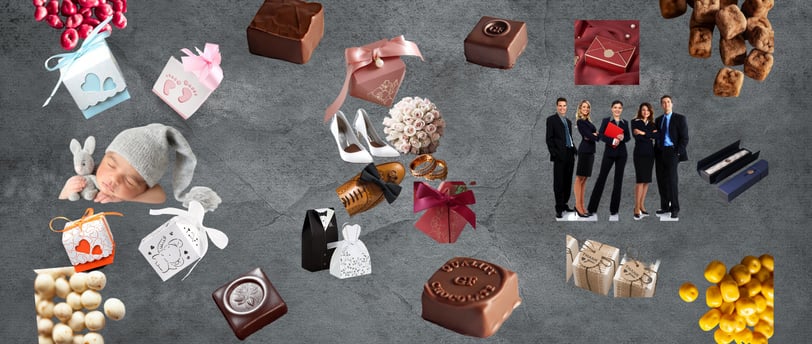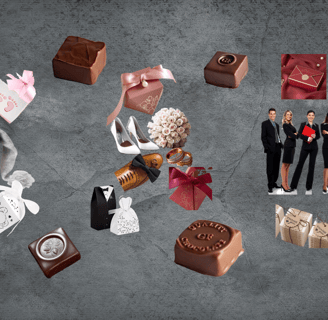 Savour the Sweetness of Gratitude with 'Thank You Flavours' at BeChocolateAndMore
When words alone can't quite capture the depth of your appreciation, a small, sweet indulgence can do wonders. At BeChocolateAndMore, we've curated a delectable collection of premium artisan chocolates known as "Thank You Flavours." These delightful confections are the perfect way to say 'thank you' on any occasion, and we're here to tell you all about the magic they bring to your heartfelt gestures.
A Sweet Gesture for Any Occasion
Whether you want to convey your gratitude for a heartfelt gesture, celebrate life's special moments, or thank your employees for their dedication, "Thank You Flavours" is the answer. Available in two delightful options, pralines and dragees, these small, individual packs hold the power to sweeten any event or gesture.
Personalized Goodness
What makes "Thank You Flavours" truly special is their personalized touch. We understand that every 'thank you' is unique, and that's why we offer the option to tailor these treats for any occasion. From weddings and baby showers to congratulatory messages, baptisms, communions, or corporate events, these delightful chocolate creations can be customized to suit your specific needs. Make your 'thank you' stand out with a personal touch that's as sweet as the chocolates themselves.
For Business and Beyond
Speaking of corporate events, "Thank You Flavours" is an excellent choice for businesses looking to express appreciation. Whether it's for event attendees or a gesture of thanks to your hardworking employees, these chocolates are a delicious way to show your gratitude. Boost morale, foster goodwill, and make lasting impressions with these delectable delights.
Unveil 'Thank You Flavours' Today
It's time to sweeten your expressions of gratitude and make every occasion a bit more special. Discover the magic of "Thank You Flavours" at BeChocolateAndMore. With small quantities of our premium chocolates, these offerings are more than just confections; they are heartfelt sentiments wrapped in a delicious package.
So, why wait? Unwrap the world of sweet 'thank yous' with BeChocolateAndMore's "Thank You Flavours" today.
#GratitudeGifts #ChocolateDelights #SweetThankYou #BeChocolateAndMore #CustomisedPralines #Pralines #Weddings #ThankYouFlavours
#PersonalisedThankYouGifts #PersonalisedThankYouFlavours #ChocolateForThankYouFlavours
In conclusion, "Thank You Flavours" at BeChocolateAndMore are a unique and delectable way to express gratitude, celebrate special occasions, and appreciate employees. The personalized touch, coupled with the premium artisan chocolates, makes these treats truly special. Whether you're an individual or a business, these small packages of sweetness are sure to leave a lasting impression.

https://www.bechocolateandmore.mt/dont-miss-out-on-the-sweetest-moments
https://www.bechocolateandmore.mt/chocolates-that-speak-your-brand